Some days I have no idea what I will write about. Yes, I have a calendar with the founding dates and other important events and I consult it regularly. Somedays, I just go to the twitter posts I favorited.
Today is Founders' Day for Phi Theta Kappa, the international honor society for students in two-year college programs. Eligible members can be enrolled in programs at community and junior colleges or in Associate's programs at four-year institutions. Patterned on the four-year senior honor society, Phi Beta Kappa, Phi Theta Kappa has its roots in Missouri and specifically at eight junior colleges for women. Only one of those first eight chapters is still in existence; it is the Epsilon chapter at Cottey College in Nevada, Missouri. Cottey College is the only college for women owned by women (the P.E.O. Sisterhood, a Philanthropic, Education Organization, oversees the college). (To read more see http://wp.me/p20I1i-wy) @PHTLove
***
I wrote four histories of GLO chapters at the University of Illinois for the Society for the Preservation of Greek Housing. The most recent was the Gamma Mu chapter of Sigma Nu. I've also written the history of the Kappa Alpha Theta chapter, the Pi Beta Phi chapter (both founded on the campus in 1895 although the Theta charter was transferred from Illinois Wesleyan and has an earlier date on it), and the Kappa Kappa chapter of Sigma Chi. I love reading about the history of the University of Illinois and that's why I stopped and clicked on this link about the history of the Phi Kappa Psi chapter at Illinois. 
One of my first cars was an old Mustang convertible. As I recall it was painted an Earl Scheib ("I'm Earl Scheib, and I'll paint any car, any color for $19.95. No ups, no extras.") yellow. When I left for college, it was given to my sister. The demise of the Mustang was a story she and her high school friends loved to tell. I don't ever recall hearing the full story because there were so many tangents to it. In any event, yesterday was a memorable day in the history of the Ford Mustang.
Theta Chi Facebook page
Another post celebrating the 50th year of the Ford Mustang, developed by Brothers Lee Iacocca, Beta Sigma/Lehigh 1945 and Hal Sperlich, Alpha Gamma/Michigan 1951: In this debut photo from the World's Fair in 1964, we see Brother Iacocca, then-Ford Division Manager leaning on the hood. Then-Product Planning Chief Hal Sperlich is at center in the back row. To read more about the development of the Ford Mustang and the roles played by Iacocca and Sperlich, check out: http://www.11alive.com/…/mustang-50-anniversary-bi…/7782681/
 ***
My friend Lyn Harris is the Chi Omega Archivist. She posted about a recent e-mail she had from the staff of the PBS show Finding Your Roots. Here is her account "So… it's an exciting day when the Chi Omega Archivist gets to help PBS!! Indeed, Gloria Steinem's mother Ruth, was a Chi Omega at Xi Delta/Univ of Toledo. She was initiated in 1947 and had probably been a member of the local group in the 1920s which became Xi Delta." And below is her twitter post about it.
So @PBS contacted me for help in researching Gloria Steinem's Mom @ChiOmegaXO @UToledo @ChiOmegaXiDelta #DayMade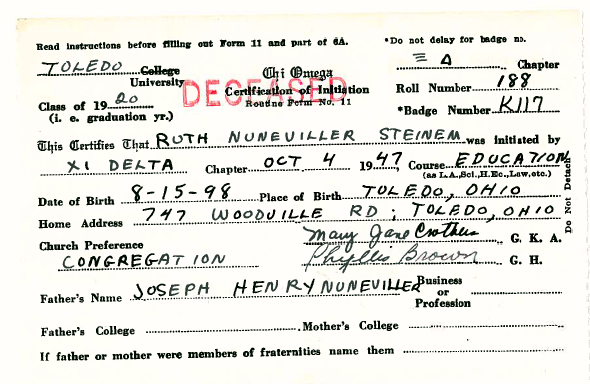 Linda Langford, Ph.D., is one of my daughter's three pledge sisters. They were convention initiates at the 2011 Pi Beta Phi convention. The story behind her initiation is a heartwarming one. At a meeting during the  Novak Institute for Hazing Prevention, a Pi Phi staff member noticed Linda was wearing a Pi Phi ring. Asked if she was a Pi Phi, she replied that she was not, but her mother was. Her mother had recently died and she wore the ring in her memory. That story was enough to get the ball rolling on an alumna initiation.
Dr. Langford leads Suicide Prevention Social Media chats and the post below is from one of those chats.
I  co-authored a paper on messaging about military/veteran suicide, in case anyone's interested: http://www.ncbi.nlm.nih.gov/pubmed/23153130  #spsm
© Fran Becque, www.fraternityhistory.com, 2014. All Rights Reserved. If  you enjoyed this post, please sign up for updates. Also follow me on twitter @GLOHistory and Pinterest www.pinterest.com/glohistory/