Calvin Coolidge, a Phi Gamma Delta, and Grace Goodhue Coolidge, a Pi Beta Phi, were both natives of Vermont. They married in the Goodhue family home in Burlington. Although they spent their married life living in Massachusetts and Washington, D.C. , Vermont seemed to be always in their hearts.
The 30th President's full name was John Calvin Coolidge, Jr. and he was born on July 4, 1872 in Plymouth Notch, Vermont. In September of 1928, the Coolidges traveled to Vermont to survey damage from the devastating flood of the prior year. They stayed at the Coolidge homestead in Plymouth Notch and visited family graves, including the one of their son Calvin, Jr. who died at age 16 in July, 1924. At the last train stop in Vermont, the President spoke eloquently and from the heart:
Vermont is a state I love. I could not look upon the peaks of Ascutney, Killington, Mansfield, and Equinox, without being moved in a way that no other scene could move me. It was here that I first saw the light of day; here I received my bride, here my dead lie pillowed on the loving breast of our eternal hills.
I love Vermont because of her hills and valleys, her scenery and invigorating climate, but most of all because of her indomitable people. They are a race of pioneers who have almost beggared themselves to serve others. If the spirit of liberty should vanish in other parts of the Union, and support of our institutions should languish, it could all be replenished from the generous store held by the people of this brave little state of Vermont.
In a Vermont Standard newspaper article Jennifer Harville, the Coolidge's great-granddaughter, gives a glimpse of the Coolidge family's modesty and humility, "One year, cousin Chris (Jeter) and our grandfather (John Coolidge) were cleaning up around the Coolidge gravestones the day before the July 4th ceremony. A passersby remarked that it must be such an honor for them to be tidying up the president's gravestone. Both of them simply nodded and continued working, never disclosing their true identities."
If you have no plans for this 4th of July, set your GPS for Plymouth Notch. The day's activities include a march starting at noon from the center of the village to the cemetery. It will be led by the Vermont National Guard's Color Guard and members of the Coolidge Family. A wreath sent by the White House will be laid on the President's grave. Excerpts from his 1926 speech 'The Inspiration of the Declaration of Independence' will be read and the playing of taps will conclude the ceremony.
A chicken barbeque in the village follows the ceremony. Wagon rides and a wine and cheese tasting at the Plymouth Cheese Factory are also planned. Sounds like a wonderful way to honor the 30th President of the United States.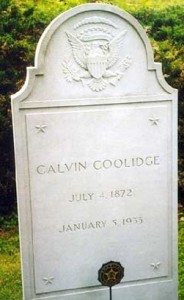 © Fran Becque, www.fraternityhistory.com, 2012
If you enjoy this post, please consider subscribing for updates or follow this blog on twitter @GLOhistory