On May 20, 1841, Chi Psi was founded at Union College in Schenectady, New York. It was the fifth fraternity founded at Union College. Its founders are Philip Spencer, Robert Heyward McFaddin, Jacob Henry Farrell, John Brush Jr., Samuel Titus Taber, James Lafayette Witherspoon, William Force Terhune, Alexander Peter Berthoud, James Chatham Duane, and Patrick Upshaw Major.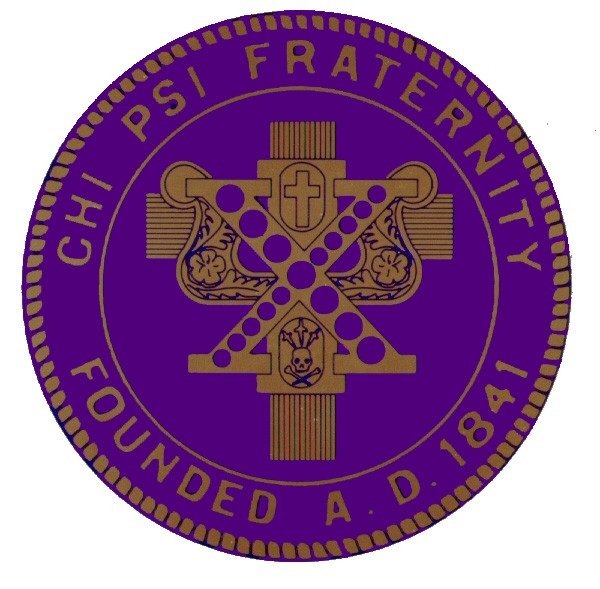 In 1846, Chi Psi became the first fraternity to own a structure in which to meet. The 1935 edition of Baird's Manual of American College Fraternities described the facility, "Epsilon, established in 1845 at Michigan, was the first western chapter. About the middle of April 1846, it built a log cabin in the woods near Ann Arbor for the specific purpose of providing a meeting place for Chi Psi at a time when the faculty was hostile to fraternities. This cabin was 20 x 24 feet and was located at the present site of Forest Hill Cemetery. In a sense this cabin may be called the prototype of the modern fraternity house."
In the March 1914 issue of Banta's Greek Exchange, Clarence F. Birdseye, was mentioned in an article titled "A Discussion on Travelling Secretaries." It was written by C.C. Chambers, Phi Gamma Delta. Birdseye had written two books, Individual Training in Our Colleges and The Reorganization of our Colleges, published in 1907 and 1909, respectively. Chambers, a field secretary himself, wrote "In discussing the organization and administration of fraternities and their relation to college life, Mr. Birdseye made the suggestion of a salaried official in each fraternity who would devote his entire time to conducting the business of the national organization and to visiting the different chapters to advise and aid them in their work. The older and more conservative fraternity men did not take kindly to this idea. To them fraternity work was a work of love and they did not want to see it commercialized. But the wisdom of Mr. Birdseye's statements impressed many Greek letter people and the idea of salaried full time official spread Mr. Birdseye's own fraternity, Chi Psi, put his plan in operation and others soon followed until at the present time eight fraternities employ men to devote their entire time to fraternity work and five others retain salaried officers who devote a great part of their time to the work. At least seven other fraternities are seriously considering the adoption of this plan. Two fraternities have developed it to the point where they employ two salaried officers and one of these is about to go a step further and add a third man to the staff."
The name Clarence Birdseye should ring a bell if you've traveled the frozen food aisle of a grocery store. So, was the Birdseye who wrote about field secretaries the same Birdseye of frozen food fame? They were both named Clarence Frank Birdseye. They were not the same person. Instead, they were father and son. Both were members of Chi Psi. The younger Birdseye, the one of frozen food fame, dropped out of Amherst College due to a lack of funds. He worked as a taxidermist for a time. He also experimented with the freezing process, started a business, lost a business, started another business and, this time, he was successful. In 1929, Goldman Sachs and the Postum Company purchased the the younger Birdseye's company. The price was $22 million. He continued to work for the company and developed more frozen food technology. In 1930, grocery stores in Springfield, Massachusetts became the test market for the frozen foods produced by the company. The rest is history.
The Archives and Special Collections at Amherst College has some materials relating to the younger Birdseye. For more information, see https://consecratedeminence.wordpress.com/2013/02/11/clarence-birdseye-in-labrador/
  © Fran Becque, www.fraternityhistory.com, 2015. All Rights Reserved. If  you enjoyed this post, please sign up for updates. Also follow me on twitter @GLOHistory and Pinterest www.pinterest.com/glohistory/