Today, Thanksgiving 2015, is a double celebration for members of three Greek-Letter Organizations – Phi Sigma Sigma, Kappa Alpha Society (not to be confused with Kappa Alpha Order) and Sigma Alpha Mu.
Phi Sigma Sigma was founded at New York's Hunter College on November 26, 1913. Its founders are Lillian Gordon Alpern, Josephine Ellison Breakstone, Fay Chertkoff, Estelle Melnick Cole, Jeanette Lipka Furst, Ethel Gordon Kraus, Shirley Cohen Laufer, Claire Wunder McArdle, Rose Sher Seidman and Gwen Zaliels Snyder.
The organization's original name was Phi Sigma Omega, but it was discovered that the name was already in use. In 1918, its second chapter was founded when a friend of one of the founders, a student at Tufts University, expressed an interest in the organization. A third chapter was chartered at New York University. When Phi Sigma Sigma celebrated its tenth anniversary, two chapters had just joined the ranks – Eta at the University of Michigan and Theta at the University of Illinois.
The social service done by those eight chapters during the 1922-23, is commendable given that two of the chapters were newly chartered. An article in a 1923 Sphinx gave this account:
The personal service work throughout the country was slightly lessened this year due to external circumstances, but Alpha continued its visits to the Hospital for Joint Diseases until the demolition of the hospital forced them to discontinue their work for the time being; Delta gave personal service to the Jewish Fresh Air Camp; Gamma gave aid to a needy family and served in settlements and hospitals; and the New York Alumnae gave freely of their time to the Big Sisters and the Council of Jewish Women.
All of our Chapters contributed generously to the leading drives of the year and to worthy organizations. Alpha contributed $25 to the Jewish War Relief and an equal sum to the fund for rebuilding the Louvain Library, in addition to its usual contributions to the Lenox Hill Settlement connected with Hunter College. The proceeds of a card party and dance given by Gamma Chapter were donated to the Foster Mothers of America, while Delta contributed the proceeds of a card party to buy cots for the Jewish Fresh Air Camp. The members of Epsilon devoted the major part of their efforts toward securing funds for their Alma Mater in the Adelphi drive.
The chief activity of the year just coming to a close was a unified effort to make one monumental contribution to aid our fellowmen and to express thereby our appreciation for what the fraternity has meant to us. With such an end in view, we decided that nothing could be more appropriate than endowing a bed in a worthy hospital. Accordingly quotas were assigned to each Chapter based on the number of its members, and a contest began to see who should first raise the required sum. We are glad to announce that ready co-operation and untiring efforts have made possible the endowment in perpetuity of a bed in the female ward of the Beth David Hospital at 1824 Lexington Avenue, New York City. Here, on Sunday, November 25th, Ethel Gordon Kraus, the founder of Phi Sigma Sigma, fittingly presented our bed to the directors of the hospital. We trust that this venture will bring happiness and needed service to those whom chance will direct to our bed. (Beth David Hospital was located at Lexington Avenue and 113th Street. It moved in the late 1950s and closed about a decade later).
***
Kappa Alpha Society is the oldest of the Union Triad, the three fraternities founded at Union College in Schenectady, NY.  It was established in 1825 by nine men, John Hart Hunter, Thomas Hun, Isaac W. Jackson, John McGeoch, Orlando Meads, James Proudfit, Joseph Anthony Constant, Arthur Burtis, Jr., and Joseph Law. Its second chapter was founded at Williams College in 1833. A total of 13 chapters have been chartered; nine of those chapters are currently operating. Four of those nine chapters are in Canada. Two are the dormant chapters are also located in Canada. My rudimentary math skills detect what is likely the largest percentage of Canadian chapters among men's fraternities.
***
Sigma Alpha Mu was founded on  November 26, 1909 at the City College of New York. Its eight founders first met at a meeting of the sophomore class. Its founders are Lester Cohen, Hyman Jacobson, Adolph I. Fabis, Samuel Ginsburg, Abram N. Kerner, Jacob Kaplan, Ira N. Lind, David D. Levinson.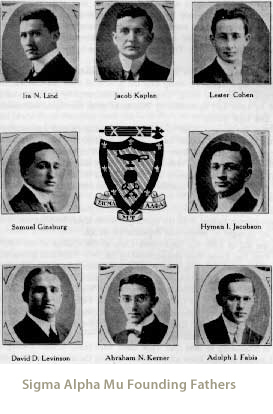 Two years later, a second chapter was established at Cornell University, quickly followed by chapters at Long Island University and Columbia University. The SAM chapter at Syracuse University was founded in 1913. It was SAM's seventh chapter.
Syracuse football great, Ernie Davis, was a member of the Sigma Alpha Mu chapter at Syracuse. In addition to being the first African-American to win the Heisman Trophy, and the first African-American to be picked first overall in the NFL draft, he was the first African-American to become a member of Sigma Alpha Mu. Sadly, Davis was diagnosed with leukemia in 1962 and died in May 1963 at the age of 23. He never played in a professional football game. 
© Fran Becque, www.fraternityhistory.com, 2015. All rights reserved. If  you enjoyed this post, please sign up for updates. Also follow me on twitter @GLOHistory and Pinterest www.pinterest.com/glohistory/