I've been writing. In fact, I've been writing a lot. Ice pack and Advil a lot.
As a freelance project, I am writing about the history of a chapter of a men's fraternity at a particular university. I love learning more about that organization and that campus, so it has been a fun, albeit long and tedious, process. Telling more than a century of history in an informative, yet easy to read fashion, is not as easy as one might think. Making sure the facts align can be a bit challeging, too.
For fun I am writing these blog posts. I can't say I am making any money off of them as the cheezy advertising is not very productive (although if you need to order anything from the ubiquitous on-line merchant, please go through the links on the side and I might be thrown a few pennies). I keep doing it because I love to tell stories. And I love getting e-mails and comments from old friends and new ones. And I enjoy hearing stories from them, too. In response to the post on the G.I. Bill a few days ago, my friend Betsy told me this wonderful story.
My Dad came home from WWII  (he joined right out of high school well before Pearl Harbor) after serving on a Navy carrier in the Pacific theater. My Mom and her family encouraged him to get his college degree while my Mom taught school. I was 2 1/2 and my brother a newborn when Dad began college at the University of Maine in Orono, Maine utilizing the G. I. Bill!

He joined Lambda Chi Alpha at the urging of my Mom's Dad who was initiated into Lambda Chi Alpha at Worcester Tech College somewhere around 1910 or so. Lambda Chi at U of Maine reached out to the returning vets at U of Maine and encouraged them to join as did most of the fraternities on campus.

One of my earliest memories is attending the Sunday dinners that were held for the Lambda Chi members and their families to help them out. The housemother became like surrogate grandmother for each of us!

This was typical of each of the fraternities on campus at that time as my Mom told me. It provided an excellent meal and social interaction and friends for the "older" students/ returning vets and their families. This made a huge difference in their lives at that time. The bonds of brotherhood forged by this membership in Lambda Chi made a big difference as the vets return to civilian lives. It also provided a path to friendship for their wives with other veterans's wives who had similar experiences while their husbands were at war providing a needed outlet for them too!

To pay it forward, I am working on a few Pi Phi things – a talk at Officer's Worskhop which needs a  good deal of fun research, some archives projects, and three upcoming posts for Pi Phi blog. I love what I do for Pi Beta Phi and I am grateful for the opportunity to do it.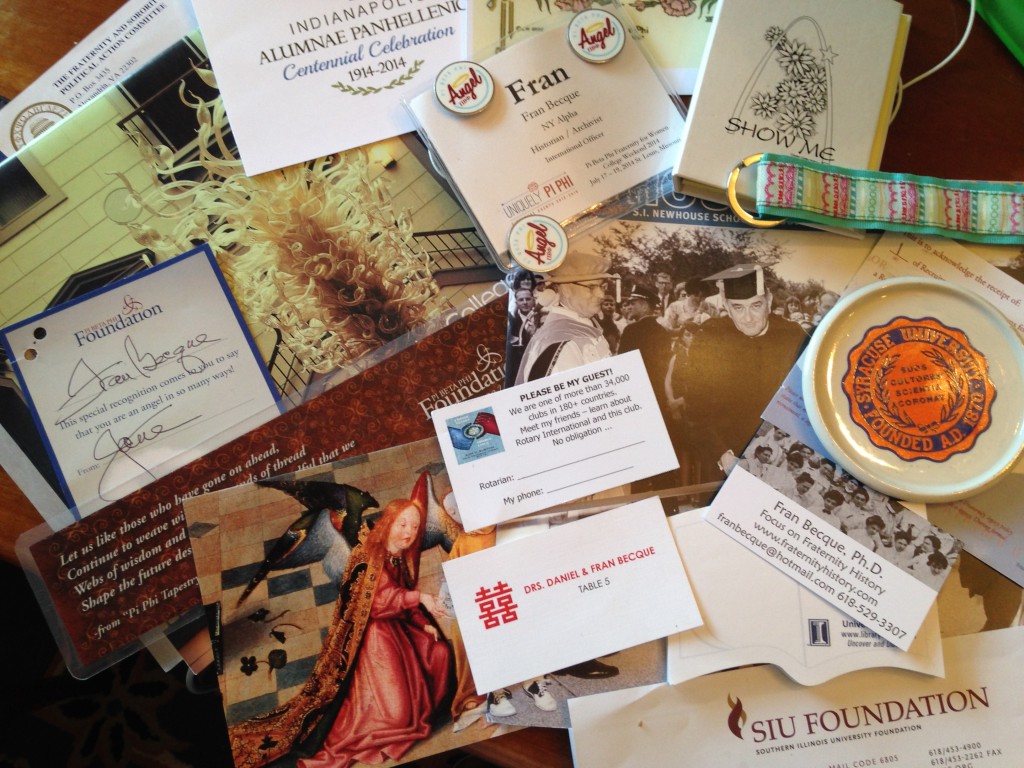 The items pictured above are some of the things that are on my desk right now. The coaster with the old school Syracuse logo was purchased 100 years ago, most likely when I was a freshman during the Ford Administration. It's not the best coaster for a glass of ice water; the water just pools up and overflows, but I use it anyway. The Mount Holyoke calendar on the left features on the cover the Dale Chihuly sculpture which was recently installed in the library. I need to make it my business to see it in person (when the Missouri Botanical Gardens  hosted a Chihuly exhibit we were able to get up before it closed and I am so glad we did. I love blown glass!).
There's a card to hand to prospective members of the Carbondale Rotary Club – Breakfast inviting them to a meeting. I haven't been very successful in that regard, but it is a good idea. There's a place card for the wedding of my daughter's best friend, Katharine (a Delta Gamma, by the way). It's funny because I often forget I have a Ph.D. and I am usually startled when someone addresses me as "Dr. Becque." Katharine's mom has a Ph.D., so I wasn't surprised when I saw "Drs." on the place card. Just be warned that I am not good in medical emergencies.
Happy Labor Day!
P.S. That's a staged photo. You really don't want to know what my desk looks like right now!
© Fran Becque, www.fraternityhistory.com, 2014. All rights reserved. If  you enjoyed this post, please sign up for updates. Also follow me on twitter @GLOHistory and Pinterest www.pinterest.com/glohistory/